Solar Up Candia - Video presentation and information
Posted on Wednesday, August 5, 2015
SOLAR UP is spearheaded by the Southern New Hampshire Planning Commission (SNHPC), in cooperation with Smart Power, NH Sustainable Energy Association and the NH Local Energy Work Group. Candia has selected Granite State Solar as their SOLAR UP partner.
To learn more, visit the following websites:
On August 2, 2015, a presentation was given to the residents of the town of Candia regarding the SOLAR UP program. Below you will find the presentation slides, the video of the presentation and the video of the Q&A portion of the presentation.
Solar Up Candia - August 2, 2015 - Presentation Slides (PDF)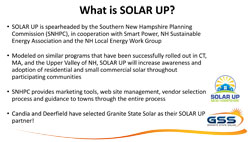 Solar Up Candia - August 2, 2015 - Presentation (41 minutes / YouTube video)
Solar Up Candia - August 2, 2015 - Questions & Answers (12 minutes / YouTube video)
Source: Board of Selectmen
Category: In the Archives