Public comment sought regarding business mail services
Posted on Saturday, August 5, 2017
Recently, the US Postal Service gave notice to the Town of Candia that is was soliciting public input regarding business services at Northern New England post offices. It is considering discontinuing accepting business bulk mail at the Candia Post Office and consolidating these services into the Raymond Post Office.
Please note that the Candia Post Office is NOT closing. This has been confirmed by the Candia Postmaster.
What the USPS is doing is soliciting public input on whether to accept bulk mail. This is a business permit for if you want to send flyers or other business mail. If this goes through, you would have to go to another post office, such as Raymond, to send out bulk mail.
If you want to share your opinion on whether the USPS should discontinue acceptance of business mail at the Candia Post Office, you can submit comments until Thursday, August 24, to:
Manager, Business Mail Entry
Re: Candia Feasibility Study
151 Forest Ave
Portland, ME 04101-7023
For your reference, attached is the letter that the Board of Selectmen received. Thanks and feel free to reach out to the contact listed on the letter with questions regarding this issue.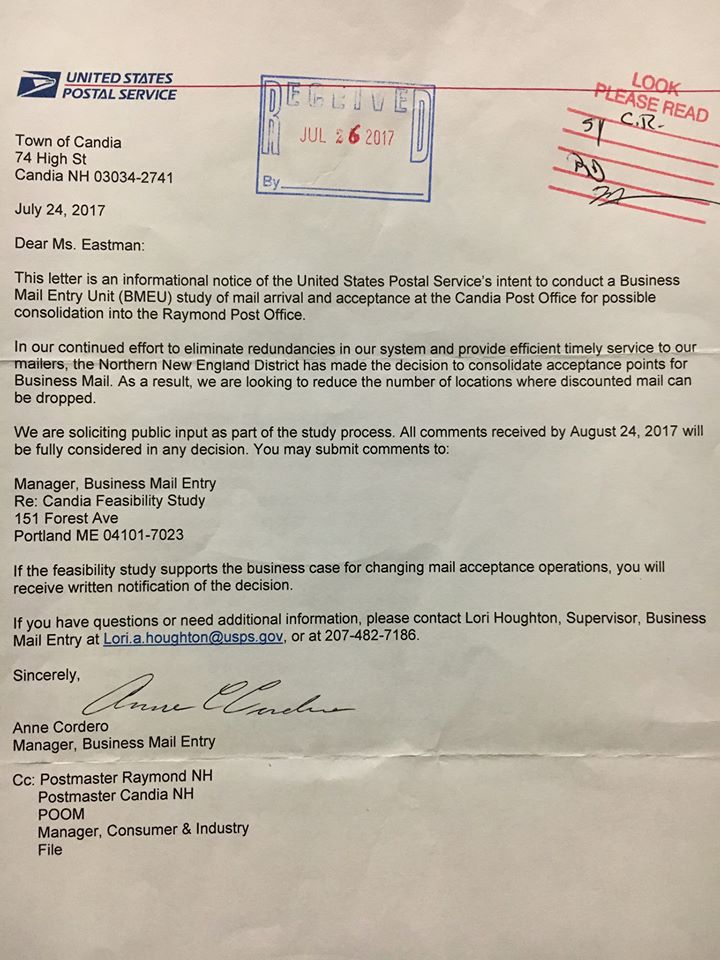 Source: Board of Selectmen
Category: Town Hall News